ALTIVIA announced today that it has sold its water treatment chemical business, ALTIVIA Chemicals, to USALCO, LLC ("USALCO"), a portfolio company of H.I.G. Capital ("H.I.G.").  Balmoral Advisors served as financial advisor to ALTIVIA Chemicals on the transaction.
ALTIVIA's water treatment business, located in Houston, Texas, is a leading manufacturer of specialty chemicals for municipal water and wastewater treatment and for industrial applications. With a 30-year history of high-quality products and outstanding customer service, the Company operates a premiere manufacturing facility in Houston, Texas, focused on the production of ferric sulfate, ferrous sulfate, and specialty coagulant blends.
Michael Jusbasche, Chief Executive Officer of ALTIVIA, said the transaction benefits both companies. "As ALTIVIA has become more focused in petrochemicals and specialty chemicals, we are very pleased to transition ownership of our water treatment business to USALCO," he commented. "The transaction is a highly favorable outcome for our employees and customers, and we believe this business will thrive as a part of USALCO."
"Having known key executives at both ALTIVIA and USALCO for many years, it was a pleasure to help bring both parties together in what is clearly a mutually beneficial outcome," said Chris Cerimele, Managing Partner of Balmoral Advisors. "We wish both ALTIVIA and USALCO the best of success as they execute on their respective growth strategies."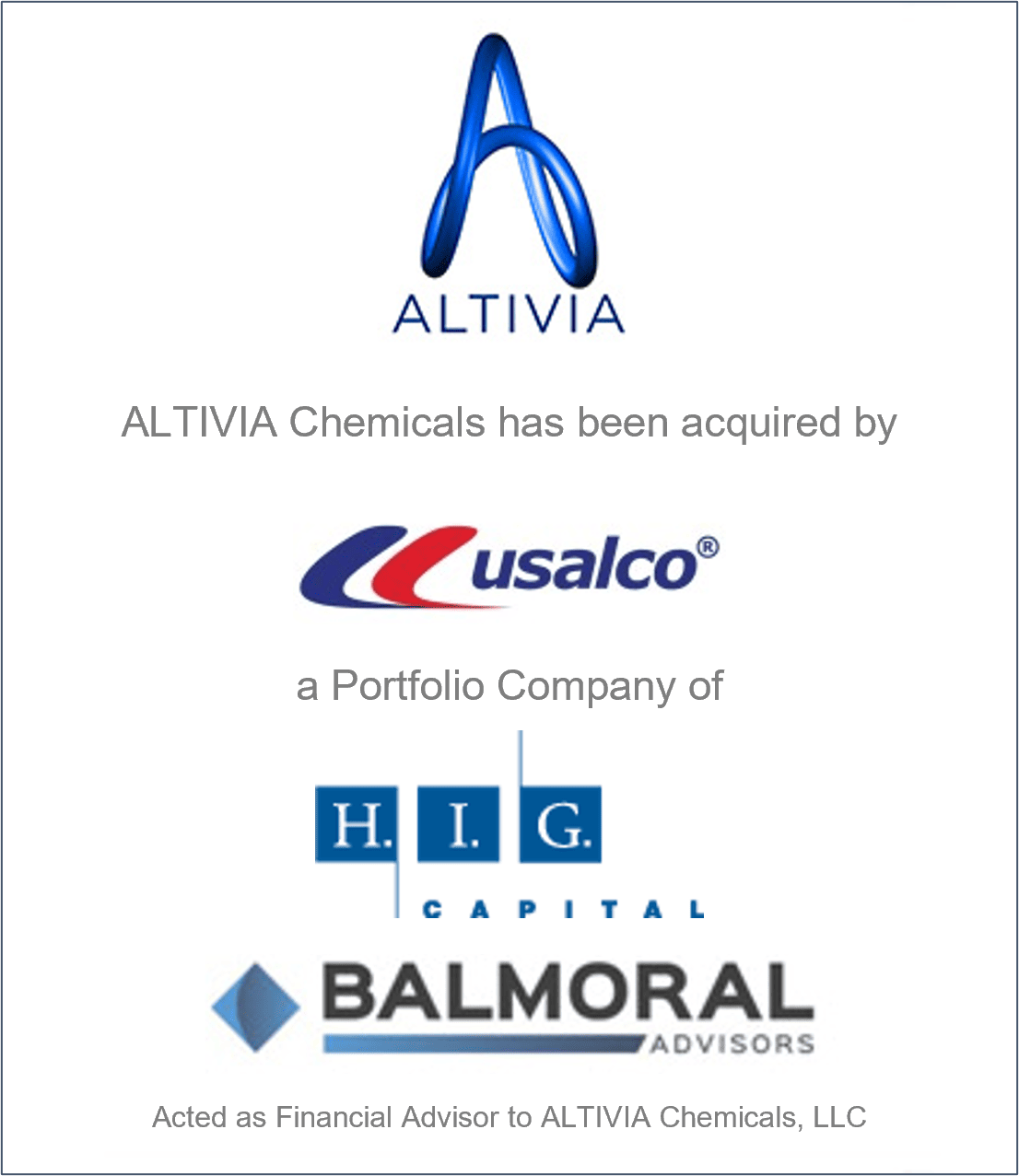 About ALTIVIA
Headquartered in Houston, Texas, privately held ALTIVIA was founded in 1986 and today operates:
ALTIVIA Petrochemicals, with facilities in Haverhill, Ohio, is the third largest merchant producer of Phenol, Acetone and Alpha Methyl Styrene in the Americas;
ALTIVIA Specialty Chemicals, the largest producers of Phosgene derivative intermediates in the Americas, including chloroformates and acid chlorides, serving pharmaceutical, organic peroxide and agricultural markets from its operations in LaPorte, Texas;
ALTIVIA Ketones & Additives, a producer of ketones and carbinols at its facilities in Institute, West Virginia. This business was acquired from The Dow Chemical Company in 2019 and it services the coatings, industrial and automotive lubricants and adhesives industries.
ALTIVIA Oxide Chemicals specializes in the custom production of a variety of chemical intermediates servicing the surfactant, lubricant and fuel additives markets. The production facility located in Crosby Texas, includes reaction capacity of 31 reactor and distillation trains with ethoxylation and propoxylation capabilities and a range of organic reactions.