Brooks Crankshaw, Managing Director at Balmoral Advisors, was recently published in the Grand Rapids Business Journal.
Has the pandemic affected the valuation of a business service company?
Many business service company owners have been through the stress of several economic cycles including the Great Recession. Now with the stress of the pandemic, some are more interested than ever in selling the company. So, is it better to delay the sale until the health crisis has slowed or is it possible to sell the business in the current environment? Answer: it is definitely possible, and "essential" businesses are in demand. "Non-essential" businesses will need to make some concessions in either valuation or deal structure.
Now that buyers have had time to understand the economic effects of the pandemic and can appreciate the merits of an "essential" industry, their interest in profitable business service companies has returned. In some situations, buyers' interest is higher than before.
"Non-essential" businesses are not so lucky. If your business has seen its financial worst and you have a definable plan for recovery, you'll find interested buyers. However, you may have to accept a lower valuation, or may have to agree to a deal structure that requires you to receive part of your sale proceeds in the future. If your business has not yet experienced financial improvement, you may be better off waiting to sell (if you're able). A good adviser can evaluate your specific situation.
What is the value of your company in the pandemic? If your EBITDA (earnings before interest, taxes, depreciation, and amortization) is higher, then the value is higher. Many essential businesses are enjoying this phenomenon. If your EBITDA is lower as a result of the pandemic, and you see a path to recovery, a buyer may still give you credit for the ongoing strength of your business especially if your company has a strong reputation, skilled labor, or desirable location.
In my view, potential buyers for business service companies still exist in the market. We have seen larger business service companies set a strategy to acquire related businesses as a path to growth. We have also identified financial buyers – private equity or family investment funds – with a new or reenergized interest in companies. Remember it can take six months to sell a company. It is never too early to begin planning in partnership with an advisor.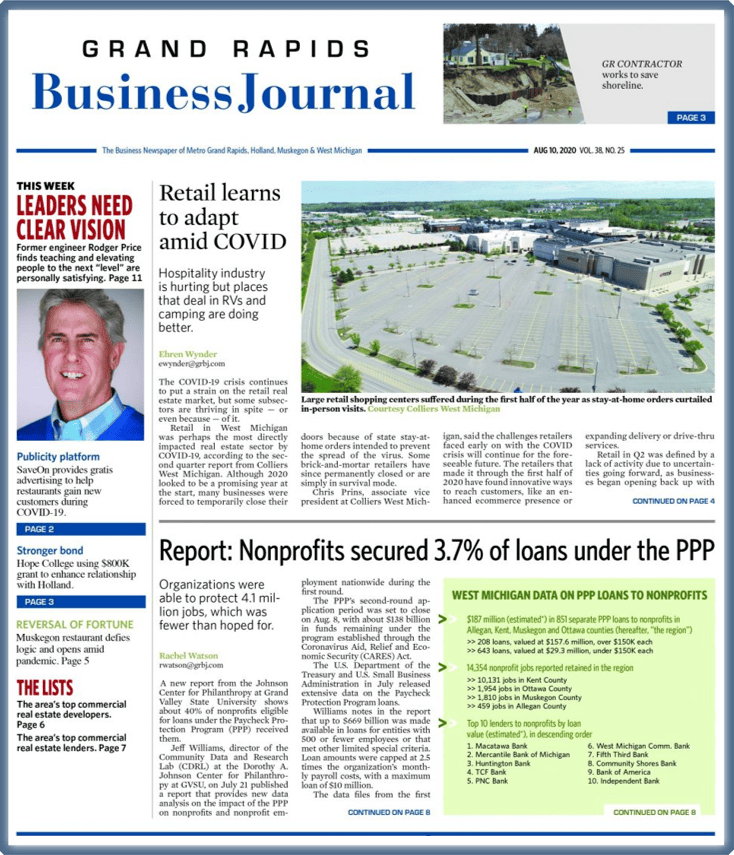 About Grand Rapids Business Journal

Since 1983, the Grand Rapids Business Journal has been West Michigan's primary and most-trusted source of local business news. The biweekly print edition of the Business Journal, a must-read for the area's top decision-makers, is known as the business newspaper of metro Grand Rapids, Holland, Muskegon and all of West Michigan.